NIGERIAN CHEF, TOPE MAGGIE HITS 200 HOURS COOKING MILESTONE
Written by Oyebamiji Idowu on November 15, 2023
Tope Maggie commenced his quest for the longest cooking marathon on Nov 9, 2023. In June, prior to the cook-a-thon's kickoff, Tope Maggie announced that his application to break this cooking record had been approved, revealing his initial plan to cook for 140 hours and 20 minutes.
However, with Alan Fisher breaking Hilda Baci's record, Tope Maggie decided to up his game to 200 hours instead.
With the cook-a-thon set to span approximately eight days, five days have already passed, leaving Tope Maggie with three more days to secure his position as the newest Guinness Record Holder.
While numerous Nigerians have attempted to break various world records and faced challenges, like Joyce Ijeoma, who aimed to achieve a 72-hour body massage but unfortunately collapsed before reaching her goal, Tope Maggie remains undeterred.
As Tope Maggie continues his cooking marathon, the question looms: will he achieve this great feat? With a promising start, we eagerly await to witness if Tope Maggie will emerge as the newest record holder for the longest cooking marathon.
Tope Maggie successfully completed his 200-hour cooking marathon on Nov 17, 2023, becoming the new Guinness World Record Holder for the longest cooking marathon. He cooked a total of 200 dishes, including Nigerian delicacies such as jollof rice, egusi soup, and amala.
Tope Maggie's achievement is a testament to his dedication, hard work, and passion for cooking. He has inspired many people around the world to pursue their dreams and never give up.
Congratulations, Tope Maggie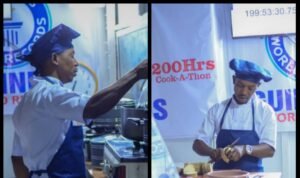 ---
Reader's opinions
---